1st Annual Diversity in Leadership Conference
1st Annual Diversity in Leadership Conference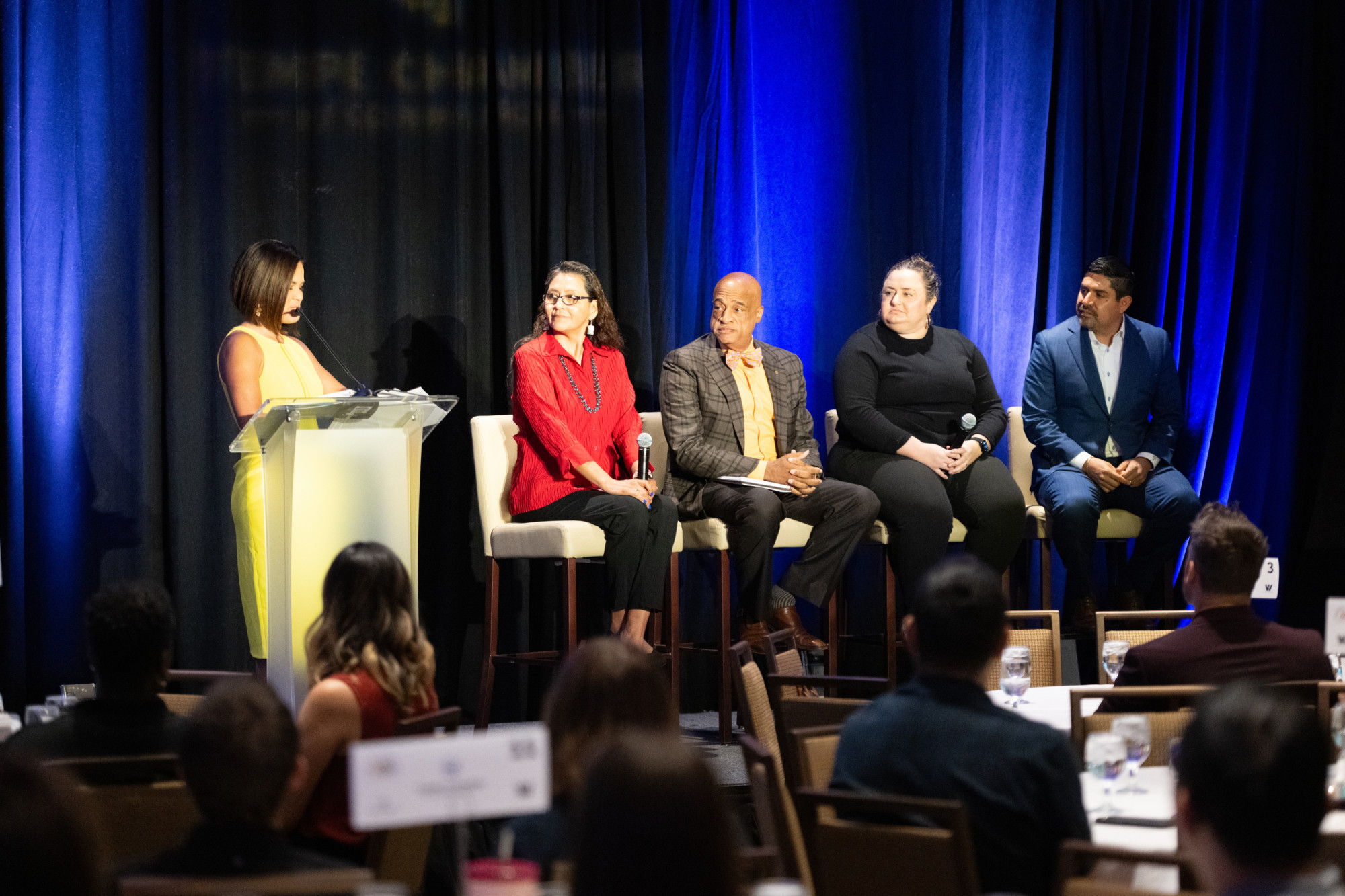 The Tempe Chamber of Commerce recently held their Diversity in Leadership Conference at the Embassy Suites in Tempe, emceed by Nicole Crites, Arizona's Family Anchor. Over 200 of the Valley's stakeholder business professionals were in attendance to exchange ideas, learn best practices and collaborate on creating initiatives that foster diversity and enhance leadership skills.
The event opened with a power panel consisting of Dezbah Hatathli, Native Nation Ambassador for Infrastructure Development at ADOT, Marion Kelly, Director of Community and Business Relations for Mayo Clinic, Meaghan Kramer, Civil Rights Lawyer for AZ Center for Disability Law and Carlos Velasco,
CEO/Founder of Novle Community Activators. They shared their personal journeys offering valuable insights and strategies for overcoming challenges and achieving success in a diverse and inclusive world.
The Fireside Chat brought Chamber President/CEO Colin Diaz, ACE, IOM together with Chakisse Newton, founder and president of Cardinal Consulting delivering on DEI, branding, business development and communication on how to achieve organizational goals.
The Women in Business Council's Mentor Program also acknowledged it's graduating protégés and mentors with certificates and accolades.
For the first time, the Tempe Chamber presented The Diversity Impact Award which was created to recognize businesses that are both acknowledging the importance of diversity, equity, and inclusion, as well as implementing practices to enhance business culture. The five criteria that this year's nominees were evaluated on were:
• Inclusive Workplace Culture
• Diverse Representation
• Community Engagement
• Supplier Diversity and
• Continuous Improvement and Accountability
This year, the award went to Achieve, formerly Freedom Financial. They believe that diversity and appreciation of individuality drives success, better serving their members. They have seen this increase support and empathy for the needs of others, improving problem-solving abilities, increased creativity and innovation, and higher job satisfaction. They boast several employee resource groups committed to driving diversity and inclusion efforts, including networking, education and volunteerism.
The event culminated with the anticipated crowning of the 2023 Business Woman of the Year. The Tempe Chamber first established this award in 1996 to recognize an outstanding businesswoman in the community who demonstrates leadership, excellence, and community involvement in the course of her business activities. Angela Johnson of FABRIC and the AZ Apparel Foundation. Angela has been transforming the business of fashion in Tempe and Arizona for many years. An award-winning designer herself, her passion may be fashion, but her vocation is mentoring young designers to create in an innovative, tech-driven, responsible and sustainable fashion industry for the 21st century. Furthermore, it is noteworthy that during COVID her team produced over 600,000 reusable medical gowns for healthcare facilities.
It was also revealed that on behalf of the Arizona Coyotes, 5 underserved businesses received a scholarship for their first year of Tempe Chamber Membership.
• Mise En Scene Events
• Mya Kai
• New Tech Outreach Services
• Pals Packs
• Queen of Design
The event was sponsored by BD, Edward Jones, EMD Electronics, State Farm, SRP, United Dairymen of Arizona and Viasat.